BLACK BOX
Ben Russell Greetings to the Ancestors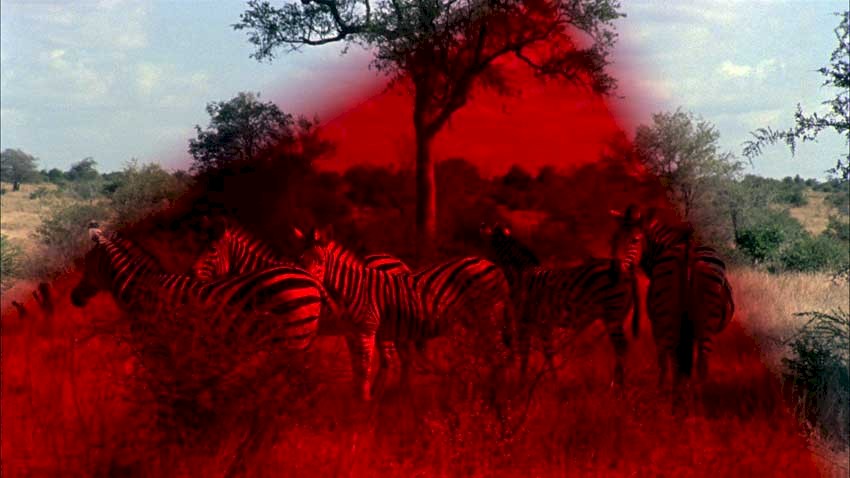 looped screening
WE 18.11.2015 12:00 - 22:00
TH 19.11.2015 12:00 - 22:00
FR 20.11.2015 12:00 - 22:00
SA 21.11.2015 12:00 - 22:00
Greetings to the Ancestors explores the structure of mythical traditions, origin stories and dream constructions.
The film opens on a sea of dancing bodies during an all-night prayer vigil of the Jericho Church in Swaziland. In their quest for transcendence, the believers dance in ecstasy. Their growling, unintelligible sounds are a sign of God's presence. This is unlike the Xhosa healers or 'Sangoma' of South Africa, who rely on a hallucinogenic root to induce vivid dreams. These constitute the spiritual framework from which they can practise the magic of their ancestors. In an intimate sequence, a young aspiring 'Sangoma' delivers a soft-spoken testimonial about her family and ancestors, and about the places she has visited in her dreams.
The quest towards transcendence is vividly represented by red-filtered psychedelic images of zebras and giraffes. They move across unmarked national borders almost as if on the edge of consciousness.
South Africa / Swaziland, 2015, 29 min
Xhosa, EN spoken
EN subtitles
Camera / Edit / Sound / Production by Ben Russell (US)
Commissioned by Northern Film & Media and Berwick Film & Media Arts Festival with support from Arts Council England and the European Regional Development Fund
You might also like: