BLACK BOX
Jenny Brady Bone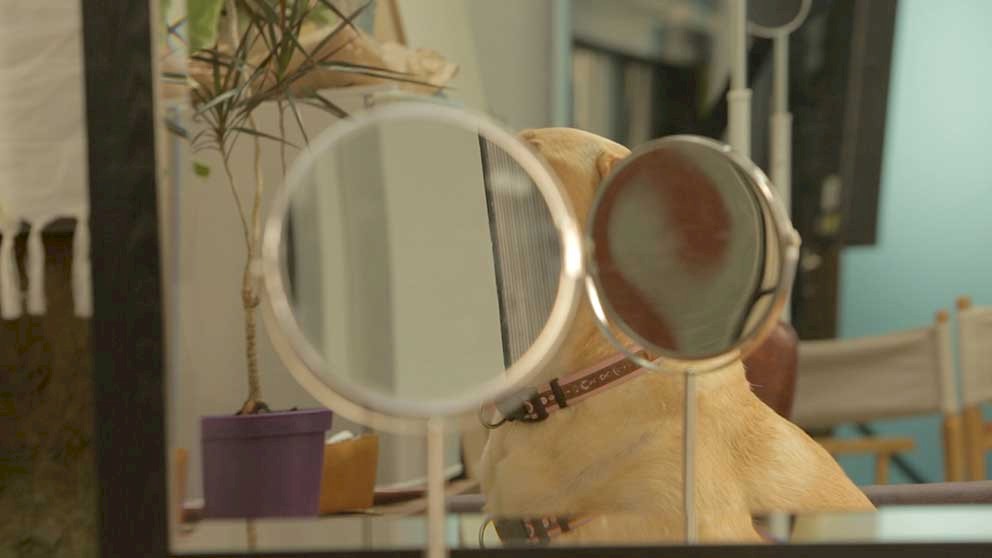 looped screening
WE 17.02.2016 12:00 - 22:00
TH 18.02.2016 12:00 - 22:00
FR 19.02.2016 12:00 - 22:00
SA 20.02.2016 12:00 - 22:00
WE 24.02.2016 12:00 - 22:00
TH 25.02.2016 12:00 - 22:00
FR 26.02.2016 12:00 - 22:00
SA 27.02.2016 12:00 - 22:00
WE 17.02.2016 20:00 introduction
Visual artist Jenny Brady (IR) uses the moving image to investigate our ideas about speech, language and the nature of communication. Her intriguing Bone is the third video in her series on language amongst nonhuman subjects.
We see the labrador Sally assume a series of poses as a model in a photography studio. As the camera records the scene on the set, which is both amusing and surprising (full of complex power relationships), we hear offscreen conversations amongst the men in the crew. Thanks to these exchanges, 'the animal' unexpectedly takes on attributes of 'the woman'.
The soundtrack, as well as the visual images, also speaks to our imagination. Musician Andrew Fogarty interweaves human and animal-like voices with field recordings, electronics and found material. As a result, as the distinctions between species of animal, humans and gender all become blurred. So too does the function of language: is our language a means of communication or a tool of power?
This remarkable combination of human language and animal behaviour may be putting mankind in front of the camera, more than its labrador protagonist. This is a video to challenge anyone hoping to sink their teeth into an inextricable tangle of meanings!
10'49"
EN spoken
► On Wednesday February 17th at 8 pm, we organise a collective viewing moment. We introduce the film and provide food. Feet under the table, eyes on the screen.
You might also like: