BLACK BOX
Marine Hugonnier The secretary of the invisible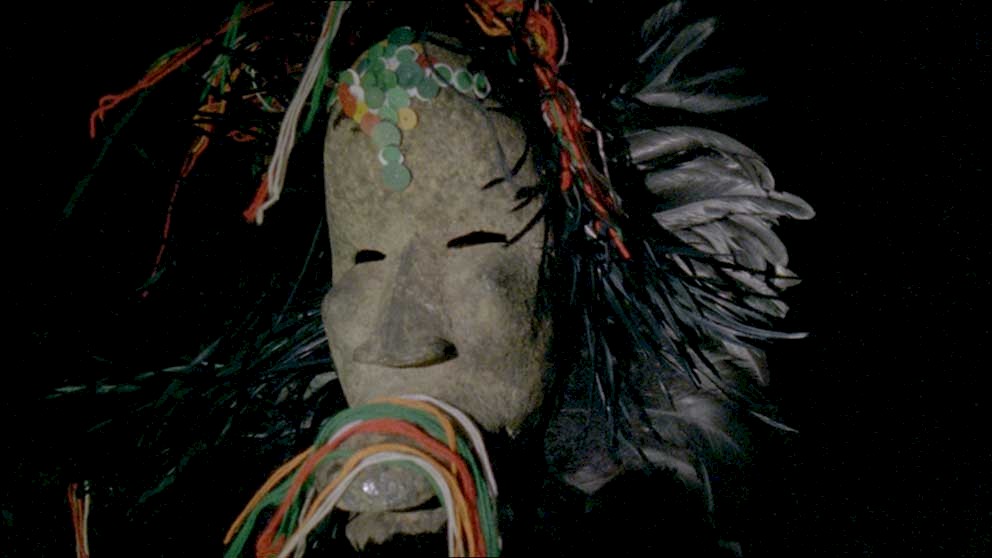 looped screening
WE 14.10.2015 12:00 - 22:00
TH 15.10.2015 12:00 - 22:00
FR 16.10.2015 12:00 - 22:00
SA 17.10.2015 12:00 - 22:00
Marine Hugonnier's film is a tribute to Jean Rouch, the French filmmaker and anthropologist whose 1955 film Les Maîtres Fous heralded the arrival of 'direct cinema' (set out to collapse the distance that separates the apprehending gaze of the camera from its subject).
More than 50 years later, Hugonnier travels along the Niger, to the homeland of the Songhai. She's accompanied by Damouré Zika and Moussa Hamido, actor and sound engineer, respectively, of Rouch at the time of Les Maîtres Fous. During the boat trip to a 'Holley' ceremony (an animist Songhai ritual), Hugonnier comes across a strange mask. This mask is a vehicle to enable man to embrace the spirit of an animal, in this case a chameleon (the West African symbol for magic and transformation).
In her tribute to Rouch, Hugonnier established the link with cinema as a medium for transformation, the changing of the world or "l'art du double". Her chameleon also symbolises the author/filmmaker with his panoramic gaze and his ability to be completely absorbed by his surroundings.
22 min, 2007
Director of Photography: Jessica Servieres
Editor: Helle le Fevre
Sound: Matthias Fayos, Moussa Hamidou, Damien Perrollaz
With: Damoure Zika and his family, Moussa Hamidou, Sani - the pirogue man, Hamidou Yaye - the priest
Producers: Karen Katz, Lydia Martin, Corinne Castel
Producers: Pinky Ghundhalle (film London Producer), Maggie Ellis (Film London, Head of Production)
Funded by: Arts Council England London with the support of Film London Artists' Moving Image Network, Mamco Geneva, Max Wigram Gallery London, Alan Djanogly
Courtesy Fortes Vilaca Gallery Soa Paulo Brazil and NoguerasBlanchard, Spain
You might also like: