BLACK BOX
Christophe Bisson Silêncio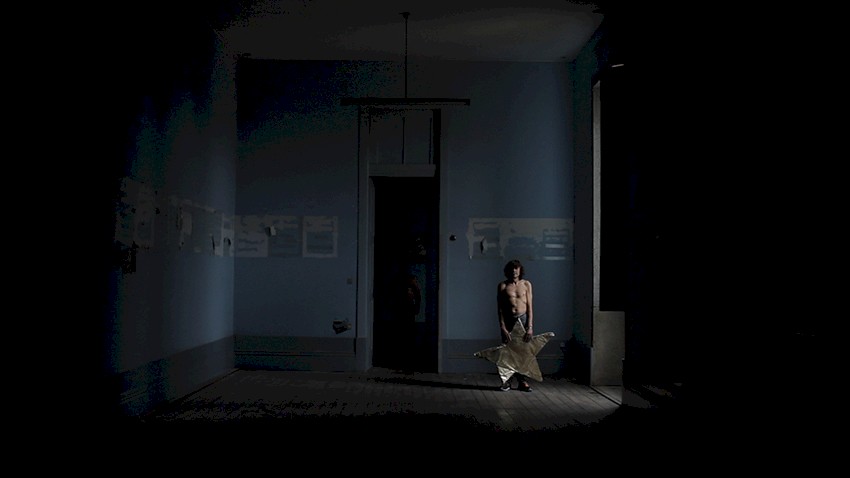 looped screening
WE 01.03.2017 12:00 - 22:00
TH 02.03.2017 12:00 - 22:00
FR 03.03.2017 12:00 - 22:00
WE 08.03.2017 12:00 - 22:00
TH 09.03.2017 12:00 - 22:00
FR 10.03.2017 12:00 - 22:00
SA 11.03.2017 12:00 - 22:00
WE 01.03.2017 19:00 introduction
In the enormous interior of an old, abandoned palace in Porto, men and women tell about how they live, sleep and survive on the streets.
What kind of images can possibly inhabit the people who are described as "homeless"? Are there images appropriate for the experience of having no home – of being beside oneself, one might say? Obviously, Christophe Bisson, French filmmaker, painter and visual artist, asked himself those questions and their many corollaries, here in the city of Porto, like in the secret heart of the world, as a natural follow-up to his previous films. To answer those questions, he first chose a particular setting: the whole film takes place on a single set, a few large rooms in some once glorious palace. The hypothesis of luxury, though now a fading memory, dictates the filmmaker's method: it isn't "realistic", since these walls are in no way the identity, biographical or social reflection of the characters; and it isn't "abstract" either, as the high doors and wide windows nonetheless mirror their private life, their past suffering, even their being.
In such a setting that is anything but inconsequential, meant as a theatre stage, therefore the characters' bodies, gestures, voices and sentences come to inhabit the frame; standing tall, they come to share their story, upright, stubborn, electrifying, for themselves. Obvious allusions to the history of painting, to some work by Beckett or to a Buñuel film (the end of Viridiana) come as a help to them, which says a lot about Bisson's fulfilled ambition to reach a similar level of respect, justice and art.
Jean-Pierre Rehm
! Atttention: because of the KRAAK festival, there will be no screening on Saturday March 4 !
You might also like: