You Ain't Seen Nothin' Yet
InCompany Workers' Club
performance
InCompany Workers' Club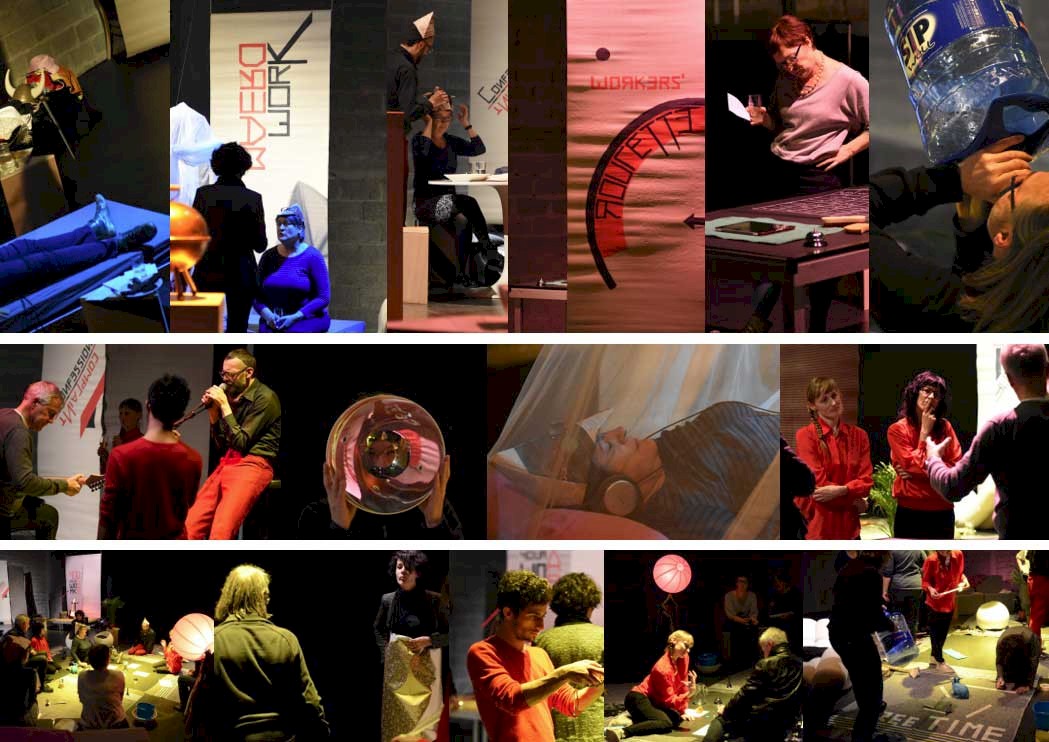 performance
FR 15.04.2016 20:30 première
SA 16.04.2016 20:30
Comment les artistes et les travailleurs perçoivent-ils leurs relations et conditions de travail respectives  ? Le collectif InCompany souhaite créer un dialogue entre les artistes et les travailleurs du monde de l'entreprise. Leur objet d'étude : comment les relations et les conditions de travail influencent-elles le regard que nous portons sur le monde ?
Pour ce faire, InCompany s'appuie sur un « club de travailleurs mobile », un environnement où les artistes et les travailleurs peuvent se détendre et se rencontrer. Ils réfléchissent à la notion « travail » à l'aide de toutes sortes d'exercices et de jeux de rôle.
L'idée du « club des travailleurs » s'inspire des projets et des idées du Workers' Club d'Alexander Rodchenko, actif dans les années 1920.
Le club des travailleurs se réunit plusieurs fois. Par la suite, les résultats de ces rencontres sont compilés au sein d'une performance. Qui sait, peut-être cela changera-t-il votre regard sur les travailleurs ?
EN & NL spoken
Creation and performance: Einat Tuchman, Nicolas Galeazzi, Heike Langsdorg
Performance and support: Gosie vervloessem
Light and technique: Michael Janssens
Flyer and support: Helena Dietrich
Production: kunstenwerkplaats Pianofabriek
Co-production: kunstencentrum buda, Beursschouwburg
---
Einat Tuchman (1968) lives and works in Brussels. She is a performance artist and choreographer, during the last years she works with social artistic concepts in which she examines the complex relation between the self and the collective environment.
Heike Langsdorf (1974) is a dancer and performance artist, based in Brussels. She develops and presents performative works and frameworks, exploring the conditions for action within, as well as outside the theatre-and-art-context.
Nicolas Galeazzi (1972) uses performance as an act of research. His work focuses on developing and questioning social discourses through artistic research projects and is articulated in various concepts, installations, performances and printed matter. Galeazzi develops new models for collaboration and dissemination of art and sets up performative research frameworks where audience ist asked experiment with political, economical and social conditions.
You might also like: