Mohamed Toukabri The Power (of) The Fragile
performance
Mohamed Toukabri The Power (of) The Fragile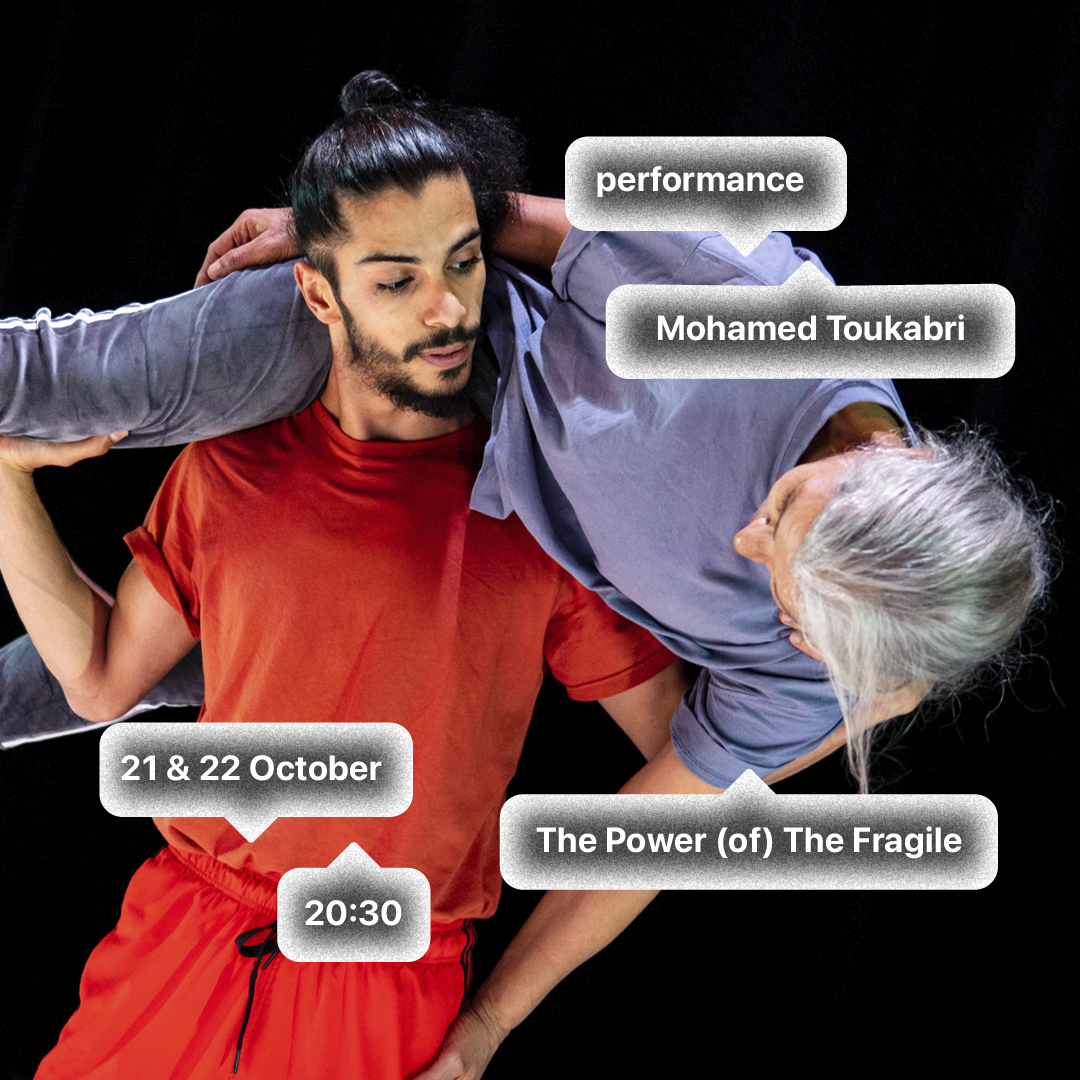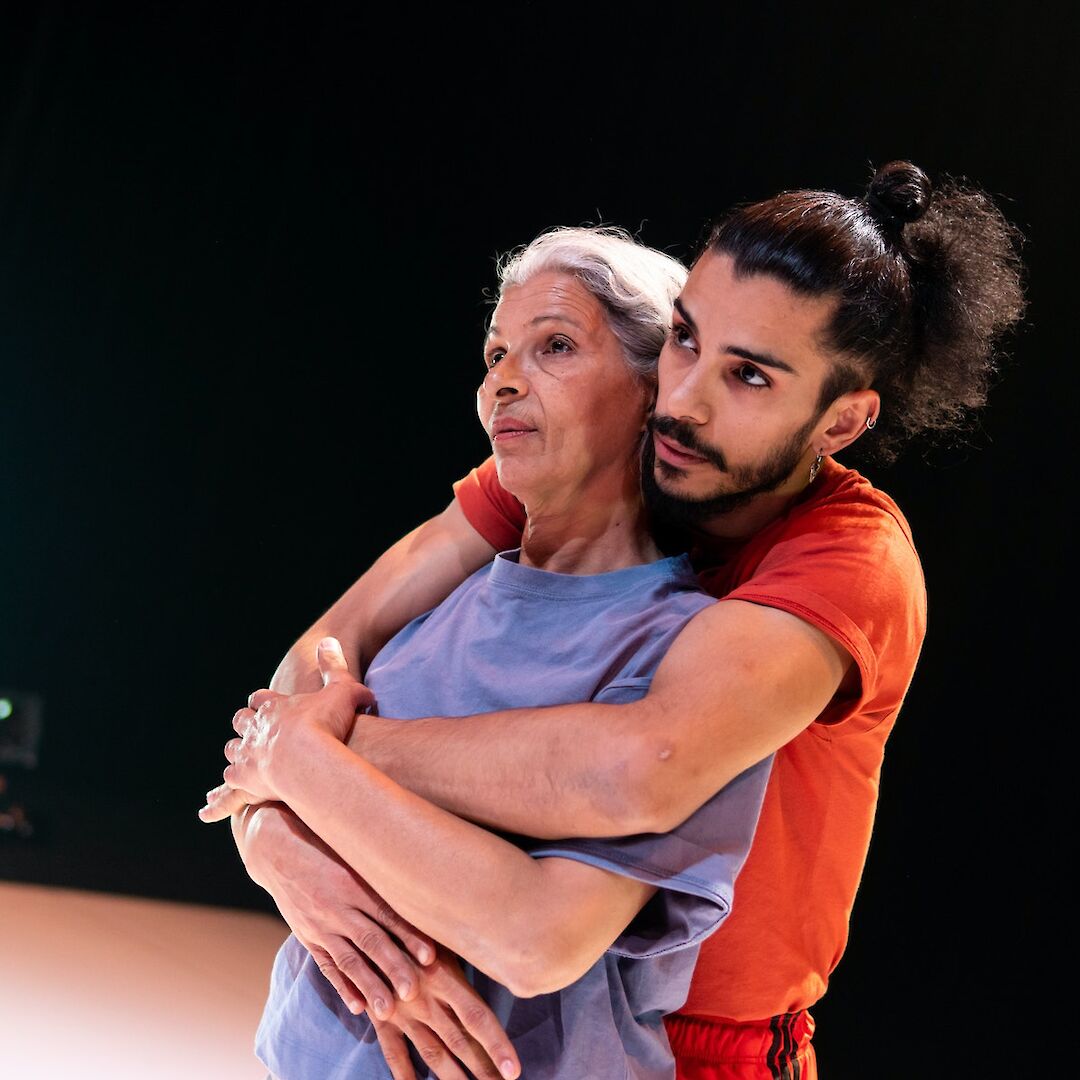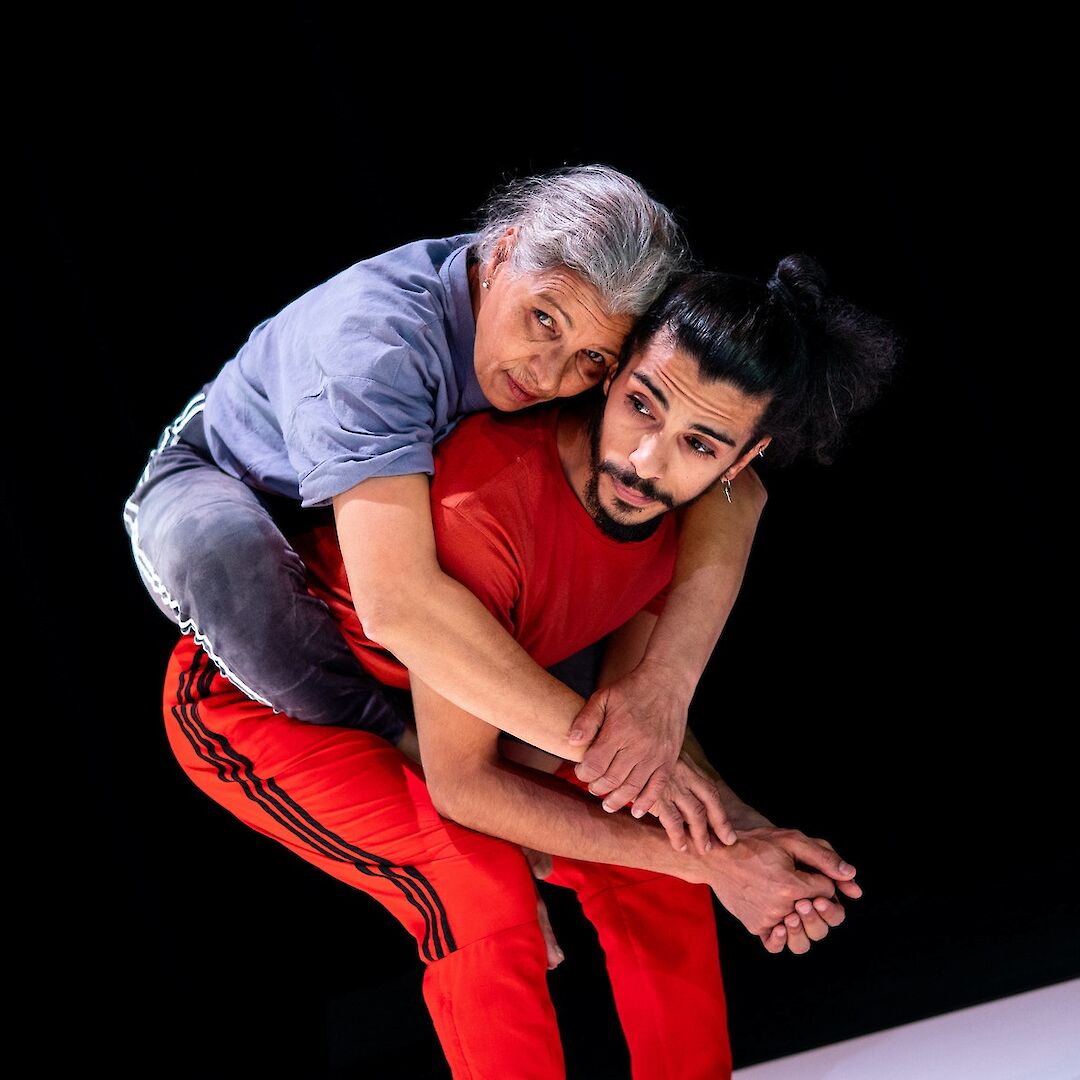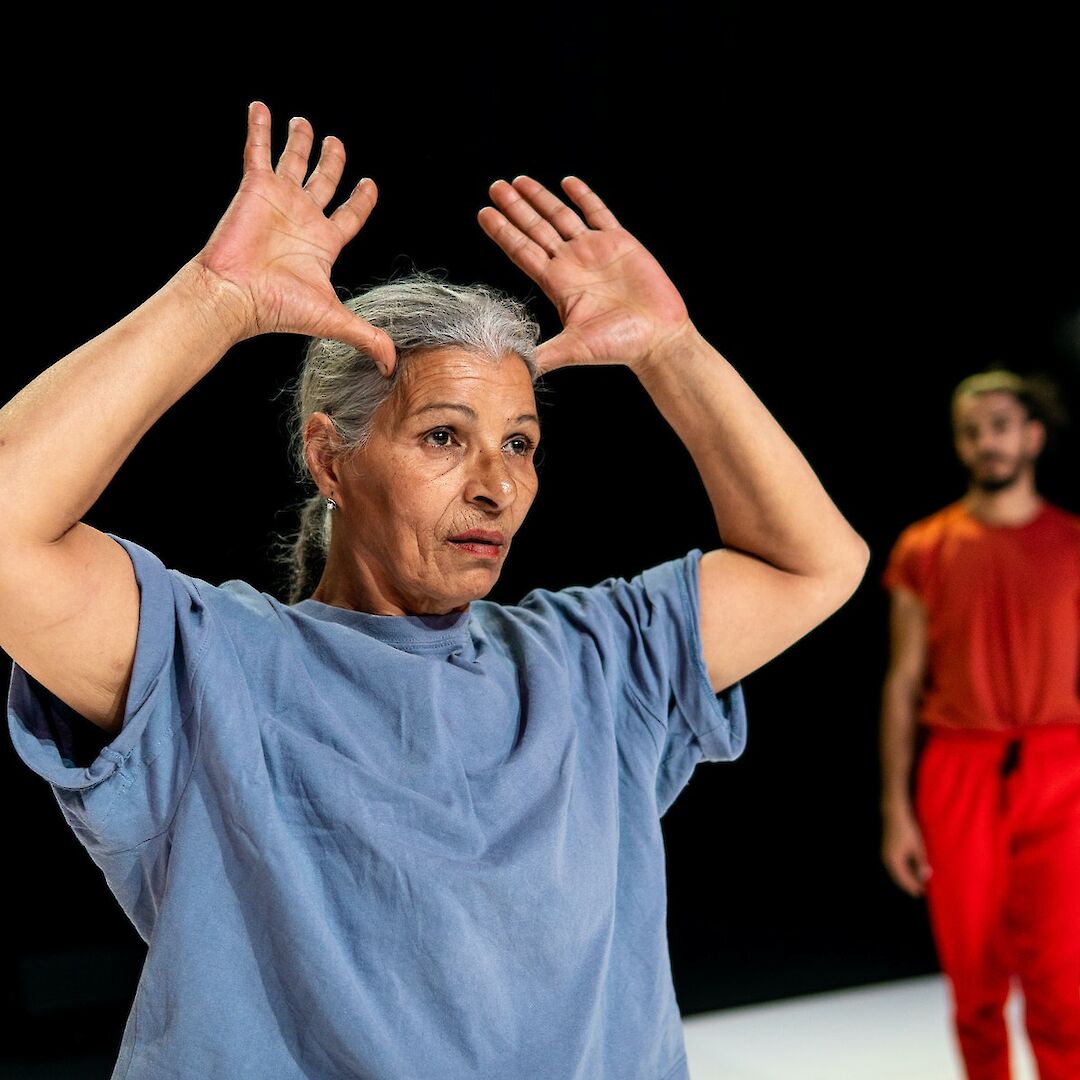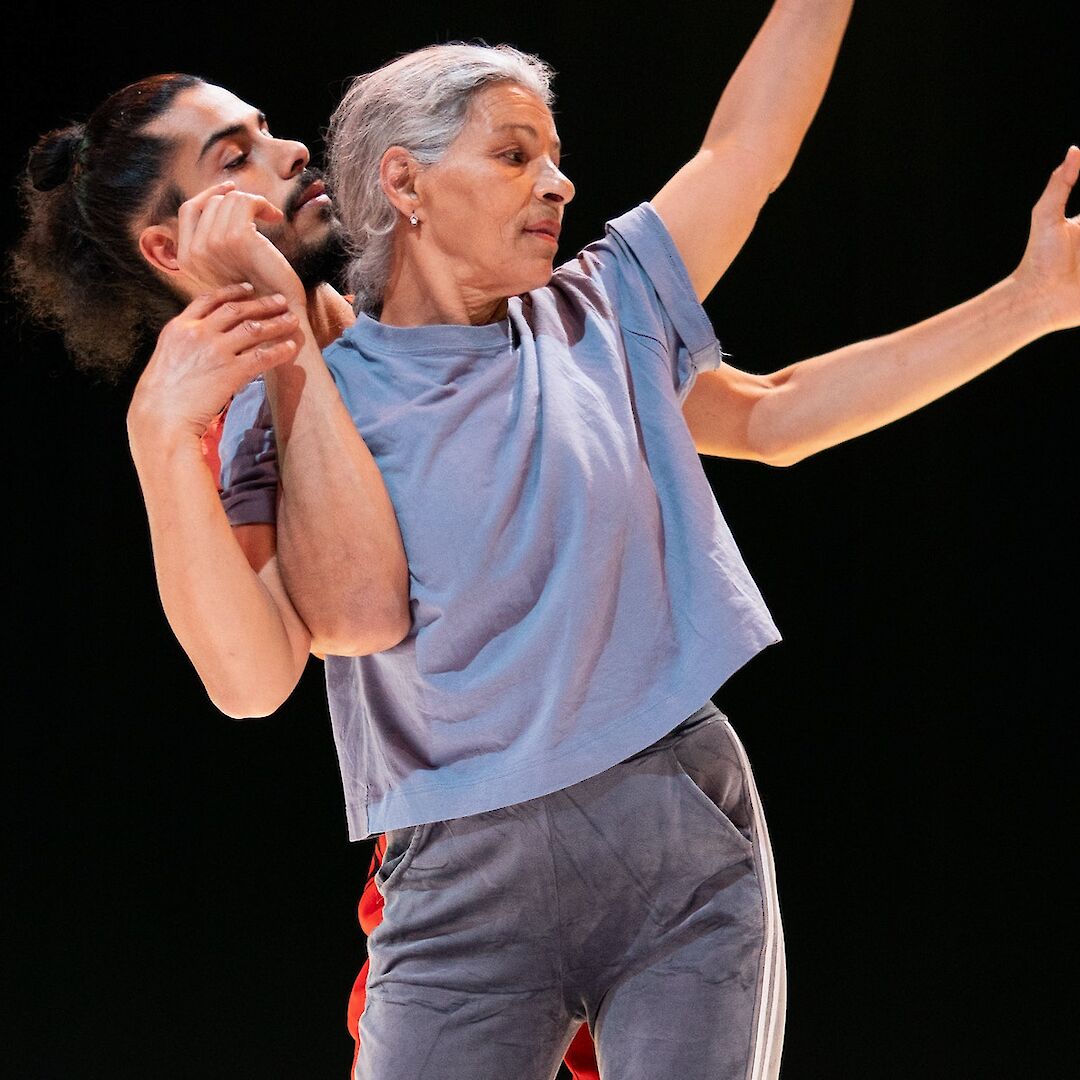 dance
BE premiere
TH 21.10.2021 20:30
FR 22.10.2021 20:30
After being apart for several years, son and mother find each other again on stage.
The Power (of) The Fragile is a meeting of two worlds, two bodies, two minds. Latifa always dreamt of being a dancer, Mohamed made it his profession. The borders of their bodies blur, making it hard to decipher where one ends and the other starts. Their lives and dreams start to merge, and only time claims its space between mother and son.
The Power (of) The Fragile is a collection of images, reflections on what the relation between mother and son can look like, on what it means to be home and to go away. It is a performance about movement, of bodies and people, about weight and what it means to carry weight, about being together and being apart. It is a tender portrait of a close relationship, and a pamphlet for our right to go wherever we want to go.
70 min.
in English
Concept and choreography: Mohamed Toukabri, Performance: Mimouna (Latifa) Khamessi and Mohamed Toukabri, Dramaturgy: Diane Fourdrignier, Technical Direction and scenography: Lies Van Loock, Sound design and artistic advice: Annalena Fröhlich, Costume design: Ellada Damianou, Research & development: Eva Blaute, Internship: Constant Vandercam, Special thanks to Estelle Baldé, Radouan Mriziga, Rim Toukabri, Bachir Toukabri, Sofian Ouissi, Julia Reist, Maria-Carmela Mini, Synda Jebali, Yasmin Dammak, Elise Cnockaert and Liz Kinoshita, Executive production: Caravan Production, Coproduction: Needcompany, Vooruit, Beursschouwburg, Dansens Hus Oslo, Residency support: Cultuurcentrum De Factorij, Needcompany, Vooruit, Charleroi Danse, With the support of The Flemish Authorities and the Flemish Community Commission
WHO?
Brussels-based choreographer and dancer Mohamed Toukabri was born in Tunis and began dancing at the age of 12, starting with breakdance. In 2008, he joined P.A.R.T.S. dance school in Brussels. He collaborated with Sidi Larbi Cherkaoui and Damien Jalet, was a member of Needcompany (2013-2018), and performed in the re-make of the repertory piece Zeitung by Anne Teresa De Keersmaeker (2012) and Sacre? Printemps! by Aicha M'Barak and Hafiz Dhaou (2014). His first self-devised work The Upside Down Man was presented at Beursschouwburg in 2019. The work has been touring in Belgium, UK, France, Germany, Switzerland, Sweden and Austria. It was selected for the Het Theatre Festival 2019 as part of the #NewYoung category.
https://www.instagram.com/mohamed_toukabri
photo © Christian Tandberg/Dansens Hus
You might also like: