Samah Hijawi Chasing Za'atar: from Jordan to Belgium (Part II) (work in progress)
performance
Samah Hijawi Chasing Za'atar: from Jordan to Belgium (Part II) (work in progress)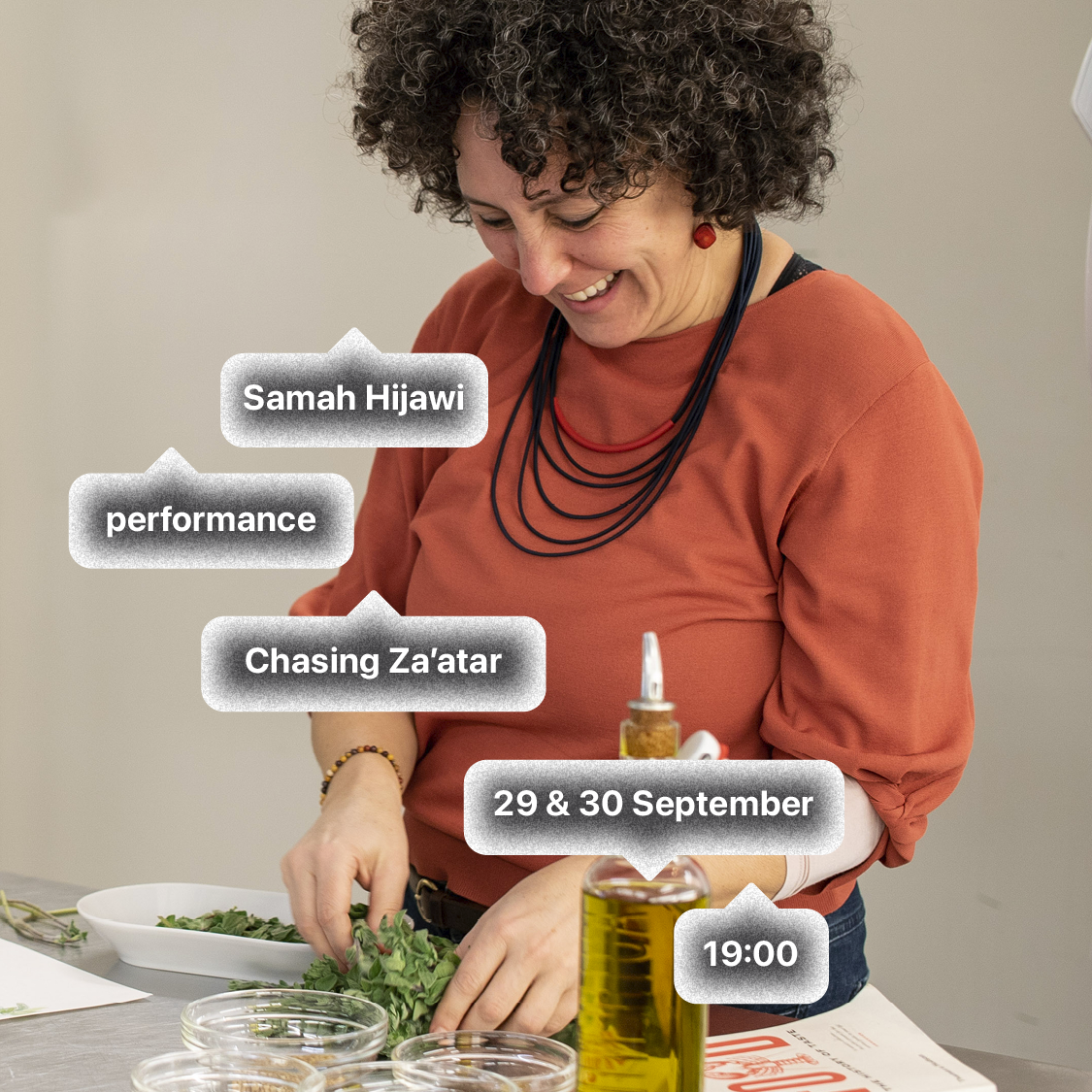 dinner
performance
WE 29.09.2021 19:00
TH 30.09.2021 19:00
Samah Hijawi shares the layered histories around food to bring a deeper reflection of the politics of the food on our table.
Chasing Za'atar (from Jordan to Belgium) is a work in which Samah collaborates with plants, farmers, and herbalists to learn about the herb Oregano (زعتر Za'atar in Arabic). From these encounters she invites us to eat our way through Oregano's histories—while reflecting on our relationship with plants, how we shop and eat, and on how movement and migration brings new foods to our plates. For this second encounter, Samah will dig out recipes from ancient cookbooks of Baghdad, Aleppo and Cairo to trace the movement of food making practices over time and across geography.
Performative food encounter
In English
2 hours
The piece includes food and wine with veggie, vegan and meat options.
Come with friends and an empty belly!
This work is produced by Kunstenwerkplaats, and supported by Beursschouwburg, Vooruit, Kaaitheater, A.M. Qattan Foundation, WPZimmer and funded by the Vlaamse Gemeenschap and theVlaamse Gemeenschapscommissie.
WHO?
Samah Hijawi is an artist and researcher currently doing her PhD in Art Practice at ULB and the Academie Royale Des Beaux Arts de Bruxelles, Belgium. Her latest multimedia works include: Aesthetics of the Political, a project that focuses on the form of political resistance in artworks that engage with political critique. And Kitchen. Table. a research on the movement of food-making practices over time and across geographies. Her works have been shown in The Royal Museum of Fine Arts Brussels, Museum M, The Hayward Gallery in London, BOZAR and Beursschouwburg in Brussels, MoMa and Apex Art - New York; Darat al Funun - Amman, among others.
instagram.com/hijawisamah
samahhijawi.com
You might also like: