CONVERSATIONS ON NOT BEING THERE … YET
Mental health and escapism through nightlife w/ Kiosk Radio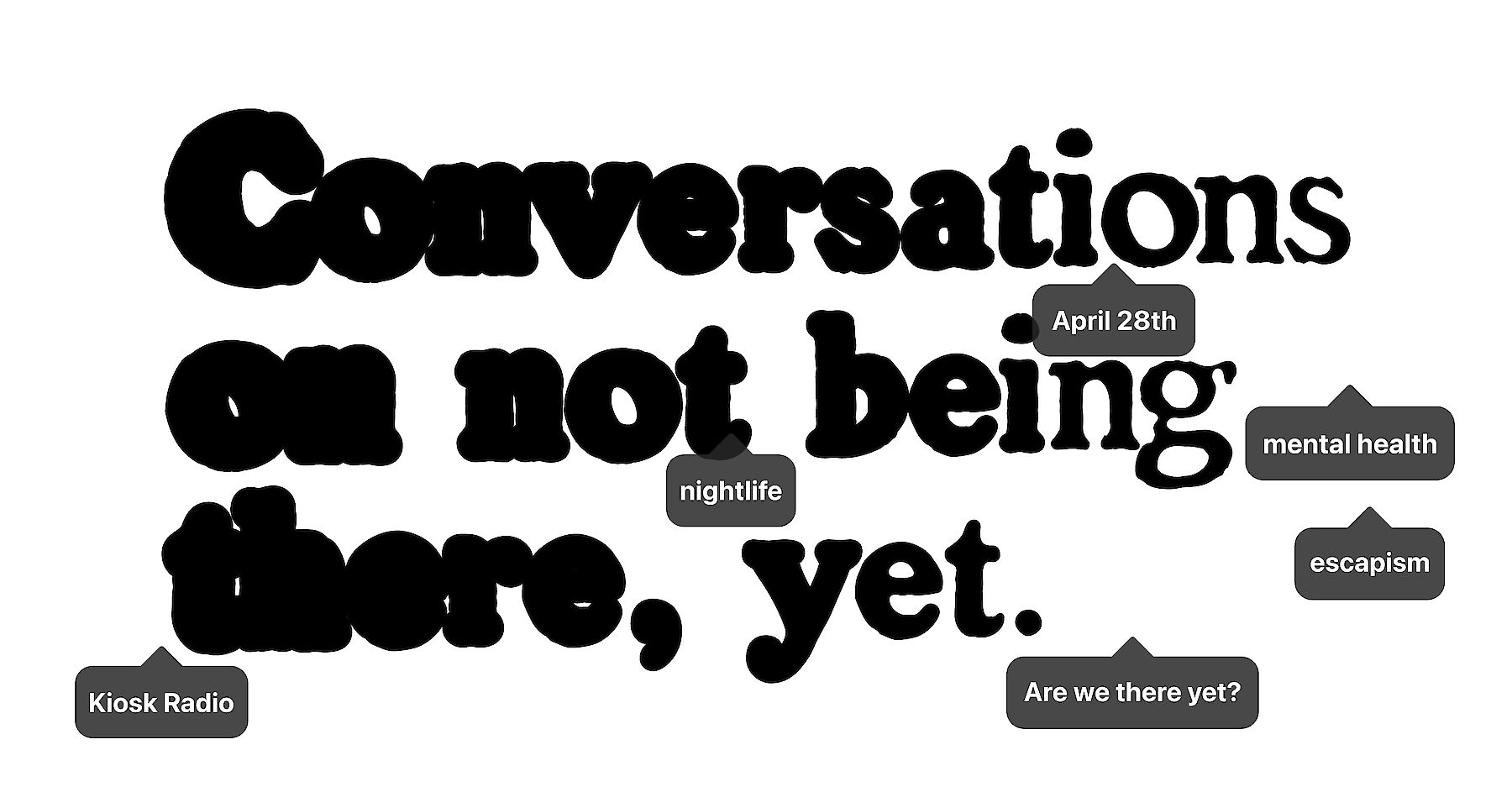 online
conversations
WE 28.04.2021 19:00
Kiosk Radio's Jim Becker will lead experimental musician Valentino Mora (IDO) and psychologists and DJs Maurizio Ferrara (DJ Athome, Front de Cadeaux) and Zohra Lkasbi (DJ SAHЯA) into a conversation about the links between mental health and nightlife, especially in times of COVID.
They will delve into the ways the lack of physical nightlife during the pandemic has affected frequent concert and party-goers. They will discuss how people and communities who seek escapism from harsh realities through nightlife can deal and cope with isolation. They will reflect on how the lack of nightlife events has affected the people who work in the sector mentally. They will analyze the potential long-term consequences of the current situation, and how we can work on making the dance floor an inclusive political and activist space of healing when we can gather again.
The conversation will be in English and moderated by Jim Becker from Kiosk Radio.
JOIN THE CONVERSATION LIVE ON THIS WEBSITE OR WATCH IT LATER.
JIM BECKER
Born in 1982, tireless music enthusiast, dj, unmissable face in the Brussels' clubbing scene and former artistic director at Mr. Wong, Jim is one of Kiosk Radio's founders. On top of that, he's a happily married man and father of one.
https://www.instagram.com/dj_athome/
MAURIZIO FERRARA
Maurizio "Athome" Ferrara is half DJ and half psychologist. DJ'ing Italo wave and House since early 90's. Born in Liège in 1971, Maurizio left the town for the capital. During the very early 90's he was connected with the psychedelic / dub scene from UK and playing Global & Dub in some freaky bars located in the center of Liège. Arrived in Brussels he had the chance to be directly connected with the queer scene from Brussels and with the crew from Radio Panik and Radio Campus. He has started dj'ing in locations like squats (Brussels, Genève mostly) and in some alternative place like Cinema Nova or Magasin 4. From 1996 to 2018 he was running Brussels Alternative Show (named Bis Art Shaker during the first 18 years) a weekly music program on Radio Panik 105.4 FM. Using a mobile studio he finally moved the radio show in Beursschouwburg, a famous location in the center of Brussels where he was streaming each week with local or international guests. In 1999 he is co-founder of the Brussels based label Pneu Records until 2020. Maurizio was a member of Everybody's Jabitudiliki with Derek Sein, who released 2 albums including collaboration with Felix Kubin & Barbara Morgenstern and Lem. In the late 90's he shared desk with Dj Sprinkles, Vladislav Delay, Farmers Manual, Pole, Pita, Charlemagne Palestine, Fan Club Orchestra and many more. In 2006 he started to play in the Italian "anti circuit scene" where he met Hugosan and Max_M. At the same time, his early connection with Honey Soundsystem brought him to play at their party in San Francisco. Since 2013 he is the co-founder of an activist & band called Front de Cadeaux (F2C) with Hugosan.
https://www.instagram.com/dj_athome/
VALENTINO MORA
Seamlessly incorporating influences of movement, expression and soul into his production, Valentino Canzani Mora has never strayed far from this ethos since his first productions. Raised by Uruguayan parents - of which his father was a trained musician and sound engineer with a home studio; Mora was always surrounded by music and began his experimentation with it at a very young age. Before taking on his given name, Mora had a string of releases including one LP under his previous French Fries moniker, during which time he co-curated ClekClekBoom Recordings, as well as handled the artistic direction for the label. Since then he has shifted his attention to his own label 'IDO' - or - Intercontinental Dance Organization. Drawing inspiration from the early ambient house scenes, IDO centres around melting percussion and modular synthesizers into a rhythmic migration of hypnotic soundscapes. Furthermore, IDO is Mora's outlet for researching alternative anxiety relief methods and meditation through sound. He recently started curating a compilation series based on this concept called "Transcendental Movements" featuring 10 international artists. He reveals a more techno and experimental sound on the labels Dement3d and Spazio Disponibile, with a full-length experimental album coming out in 2020.
https://www.instagram.com/valentinomora_/
ZOHRA LKASBI
Zohra Lkasbi is a clinical psychologist and behavioral therapist in training. She also obtained a master's degree in criminological sciences. Zohra Lkasbi works as a forensic psychologist at the University of Child and Adolescent Psychiatry Antwerp, department Behavioral Disorders. She has 9 years of working experience with youth who displayed behavioral issues and harmful sexual behaviour, in combination with psychiatric disorders. Zohra Lkasbi is also exploring the link between music and mental health, which stems from her passion as a DJ. She started her musical career three years ago and is known as dj Sahra. As an Antwerp based DJ SAHЯA she mainly plays afrobeats, afrohouse, dancehall and old school hiphop at festivals and other events.
https://www.instagram.com/dj__sahra/
You might also like: