O Solitude
String Figures: film Touwfiguren Brussel Katrien Vermeire (BE) + live tutorial How to make string figures
audio/visual arts
String Figures: film Touwfiguren Brussel Katrien Vermeire (BE) + live tutorial How to make string figures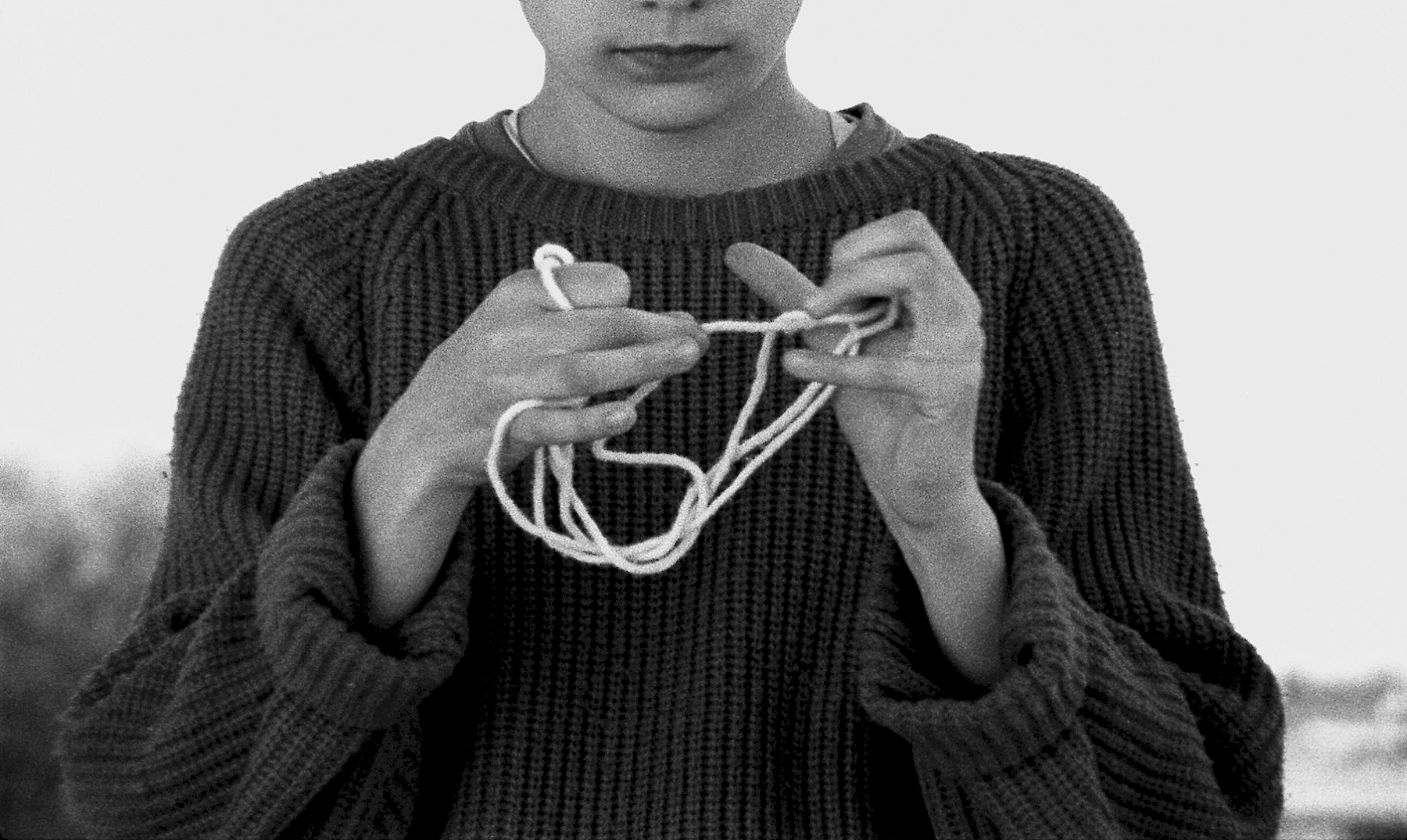 Do you remember those string figures? And how you can transform a simple loop of string in your fingers into a fascinating play of lines? Belgian filmmaker Katrien Vermeire refreshes our memories with a delightfully playful short film, Touwfiguren Brussel. Touwfiguren Brussel is part of her recent String Figures project.
In the West, we primarily know them as children's pastimes, such as the Cat's Cradle, in which two people alternately take over each other's string figure and change it into new patterns. But string figures are not so childish or noncommittal as our associations with noisy playgrounds would have us believe. They are probably older than writing, and they are found in all corners of the world. In many societies, not only are string figures much more complex, but they have the status of a fully-fledged, if ephemeral art form, with narrative, religious or magical substance. It is precisely because of that temporary character that we risk losing our knowledge of it.
Katrien Vermeire unravels this living, age-old and underexposed tradition and speaks to our innate muscle memories. Who knows, you might still have this art form in your fingertips. Give it a try!
Programme:
◊ introduction by Sieglinde Berbiers
◊ screening of Touwfiguren Brussel by Katrien Vermeire
◊ interactive presentation on how to make string figures by James Inoli Murphy
WITH LIVE INTERACTIVE PRESENTATION!
Even though the main event of the evening is the screening of Touwfiguren Brussel, the film will be preceded by a brief introduction to the phenomenon of string figures and an interactive presentation by special guest James Inoli Murphy. Murphy is a Cherokee descent, mathematician and former teacher from New York. But above all, he is a string figure expert! Not only has he mastered the art of string figures with grace and ease, he is also an ardent advocate of string figures as a revolutionary educational tool. Promoting string figures has become his passion over the years and his presentation will be devoted to this commitment.
Direction:KatrienVermeire Camera: Michel Houssiau .
Editing: France Duez .
Production management: Christian Châtel .
Production: Mount Vision Pictures .
BIO .
Katrien Vermeire is a Belgian visual artist and filmmaker. She studied photography at the Royal Academy of Fine Arts in Ghent (KASK) and art history at the University of Ghent. Her work has been exhibited in Belgium and elsewhere, including the FOAM Museum of Photography in Amsterdam and Museum M in Leuven. In 2011, her photographic series Godspeed was selected for the talent section of FOAM Magazine nr. 28. The Wave, a photography and film project co-directed with Sarah Vanagt, was presented at the Beursschouwburg in 2013, as was Vermeire's first short documentary film, Der Kreislauf (A Handful).
You might also like: