Meggy Rustamova Horaizon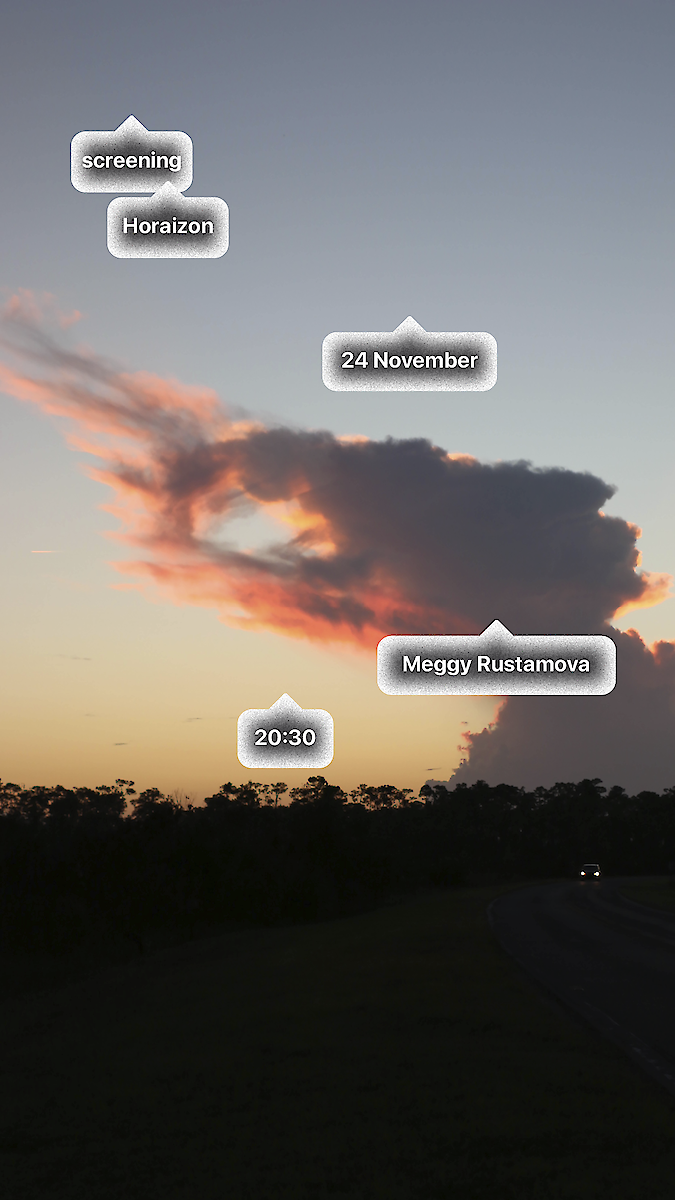 golden space
€6 reduction / €4,5 student
€9
tickets
As millions of people inhabit big cities, we tend to forget how important nature and landscapes are for human sanity.
In times where the ecological confrontation between nature and humans has reached a point of no return, many scientists suggest that current events are a result of human intrusion into nature, occupying too much space on this planet. As millions of people inhabit big cities, we tend to forget how important nature and landscapes are for human sanity. In Horaizon, tourists travel across borders in search for sublime landscapes, while paradoxically leaving a footprint that inevitably destroys these wonders of nature. The film is shot in different locations throughout the world: Belgium, Iceland, Arizona and New York amongst others. The horizons, sunsets and weather conditions between these places form the common thread of the film.
The screening will be followed by a conversation with filmmaker Meggy Rustamova and curator Dagmar Dirkx (in English)
More short films to be added to the programme.
WHO?
Meggy Rustamova (°1985), born in Tbilisi, Georgia, lives and works in Brussels and Sint-Niklaas, Belgium. She obtained her Master's degree in visual arts at KASK, Ghent (2006-2011), studied at the Universität der Künste in Berlin (2010) and accomplished the postgraduate course at HISK (2012-2013). Over the past few years, Meggy Rustamova has developed an interdisciplinary oeuvre consisting of photographic works, videos, installations and performances. Her work offers a distinctly poetic look at the relationship between individual and collective memory, between language as communication and visual vocabulary. She searches for ways to translate contemporary social tendencies and issues into her own work, often by means of microhistories. The beauty of her often optimistic-looking images hides a certain melancholy or desire for utopia.
Dagmar Dirkx (°1993) studied art history at the KU Leuven, Belgium. Dagmar wrote reviews and essays for De Witte Raaf, Metropolis M and rekto:verso. As an author and art historian, she is regularly commissioned by artists and cultural institutions such as STUK Huis voor Dans, Beeld en Geluid or CIAP Kunstverein. As a research curator, Dagmar is conducting an art historical research project on video art in Belgium during the seventies for ARGOS centre for audiovisual arts in Brussels.
You might also like: