Black Healing, Black Rest, Black Joy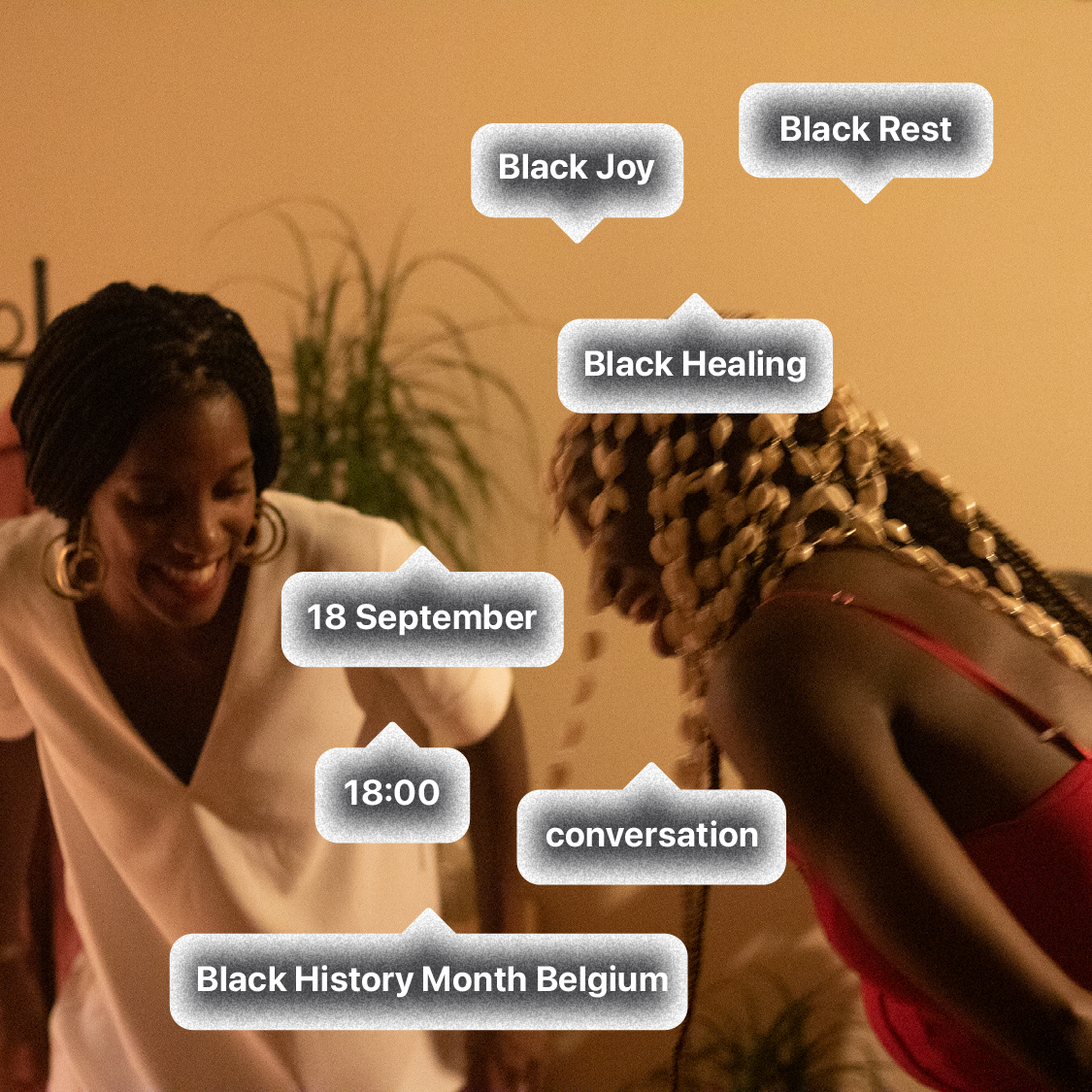 conversations
SA 18.09.2021 18:00
Black History Month Belgium is inviting Black folk to an interactive conversation centering some much-needed aspects of Black existence: healing, rest and joy.
When it comes to Black Liberation, we are #NotThereYet. The pandemic and the #BlackLivesMatter uprisings have increased the heaviness of the work to get there and the scrutiny under which Black People perform that work. Therefore, Black History Month Belgium is inviting Black people to an interactive conversation, hosted by Sarah Diedro Jordão & Adéọlá Naomi Adérè̩mí.
In a conscious effort to stop existing, creating and producing in reaction to white supremacy, patriarchy and misogynoir, and instead to shift their living towards reclaiming their joy, time, spaces, rest, and quality time with their kinfolk, the hosts will start with a conversation on both their work/activism related to intentional joy, trauma healing, community love, nap-taking, etc. The collective will then listen to short interviews and podcast episodes as well as read short excerpts from books and articles on that topic, before inviting the audience to share openly about their journey around (re-)centering joy, healing and rest in their lives. The session will end with a group meditation, affirmations setting and a shared meal cooked by Gombo Club's Issiaka Johnson. After that, you are invited to join us for the performance 'The Mirror Stand' by ballroom & contemporary dancer Stanley Ollivier.
In English
Sarah Diedro Jordão (she/her)is a communications strategist, anti-racist activist, intersectional feminist moderator and podcast producer. Her latest podcast creation "Reclaiming our Joy" refocuses on the joy of Black women and non-binary people as an act of resistance. A former youth ambassador for the UN Women office in Singapore and currently an expert advisor on intersectionality for the North-South Centre of the Council of Europe, she has facilitated various workshops around racial and social justice for organisations and NGOs, and has moderated conversations with artists, activists and intellectuals from the African diaspora for cultural institutions in Brussels.
Adeola Naomi Aderemi (she/her) is a multilingual, multilocal, AfroGreek, and multi-format artist, scholar, curator, and healer. She received her Masters of Science in Public Health at Birmingham City University. She is the founder and editor-in-chief of Distinguished Diva. She is currently working on her debut documentary film on the lives and lived experiences of Greeks of African descent (AfroGreek). She utilises the integration of holistic healing practices in policy spaces and culture, as well as uses modalities of care available on issues around Black women's liberation, gender justice, women's health, and equal representation for voices of women of African descent in global media. Her work in various mediums has been featured in publications such as Women Under Siege, New York Times, Ms. Magazine, New Museum New York, Forbes, E-flux, Elle, and Vogue.
You might also like: