Sara Leghissa Will you marry me?
performance
Sara Leghissa Will you marry me?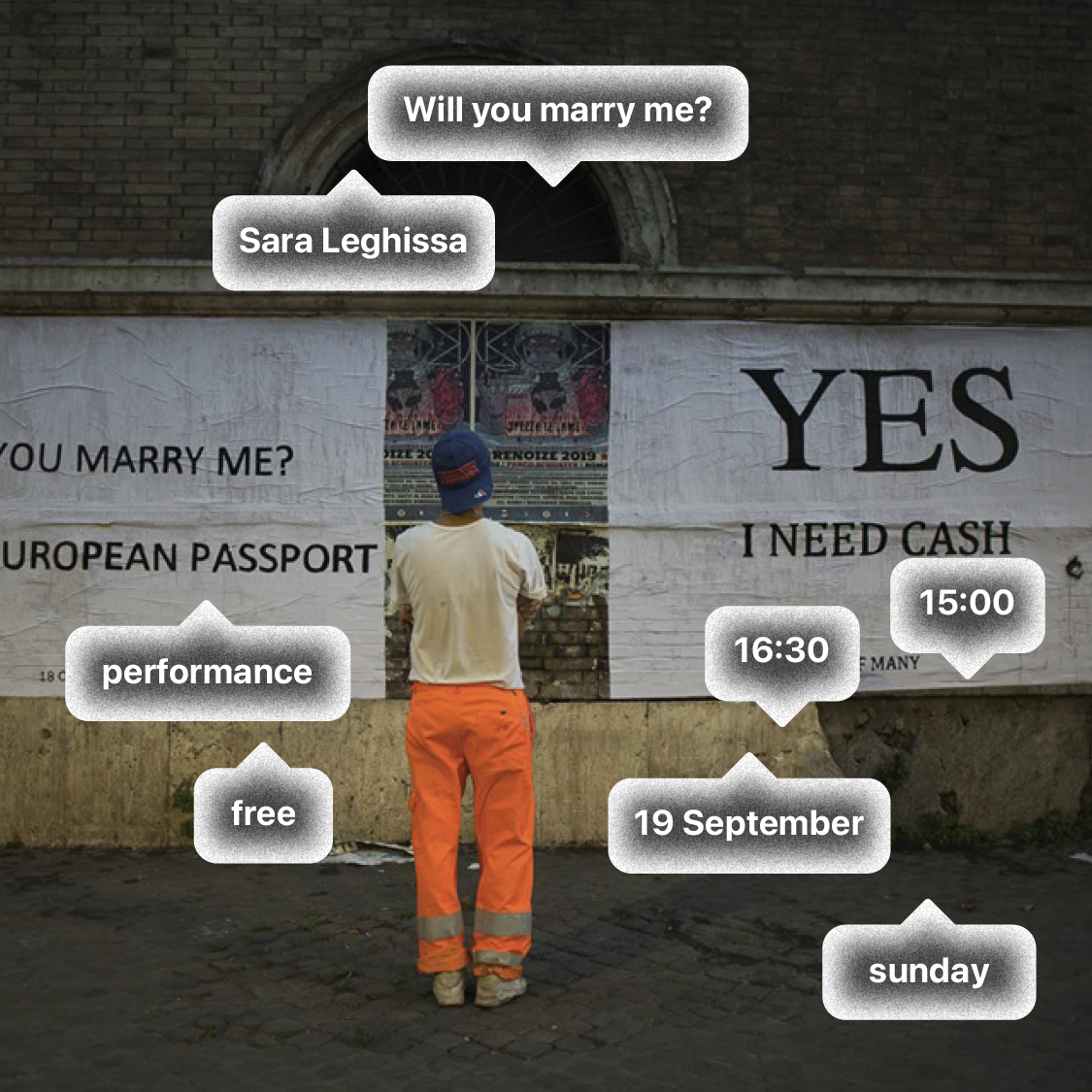 lecture performance
SU 19.09.2021 15:00
SU 19.09.2021 16:30
Welke illegale acties zijn deel van het dagelijkse leven? Hoe speelt de publieke ruimte daarop in? En hoe kunnen we dan de wet omzeilen zonder ze te overtreden – zeker wanneer er mensenrechten op het spel staan?
"Ik ben gefascineerd door het verschil tussen zogenaamd "privé" en "publiek", en ik probeer om te gaan met wat het betekent om in een maatschappij te leven die shock-proof lijkt en toch wordt genoodzaakt tot geheimzinnigheid." - Barbara Kruger
Sara Leghissa inspireerde zich op eigen ervaringen en interviews met activisten in Prato, Ramallah, Marsiglia, Madrid en Nyon om het te hebben over strategieën en "praktijken van ongehoorzaamheid". Enerzijds is de wet een fluïde gegeven en verandert ze afhankelijk van waar we ons bevinden in de wereld, de historische periode waarin we leven en het soort privileges dat we genieten. Anderzijds bepaalt de wet wat moreel en legitiem is – met andere woorden, wat goed is. Ze verdeelt macht en de perceptie van macht in de samenleving. Ze definieert, categoriseert, splitst en controleert. Hoe kan je ongehoorzaam zijn in het openbaar? En hoe kunnen medeplichtigheid en publiek verzet er dan uitzien?
30 min.
15:00 in het Frans
16:30 in het Engels
Beursplein
WILL YOU MARRY ME ?, the artist's book by Sara Leghissa and Marzia Dalfini is a book whose ultimate ambition is to "disappear on the street". Its pages collect words and stories of people whose right to exist and be visible in public spaces was forced to confront the concepts of "legality" and "justice". All the content was collected by the artist during meetings and conversations that took place in Prato, Milan, Ramallah, Marseille, Madrid, Nyon and Lausanne and with this book-object their words become manifestos that the reader is invited to detach and relocate into the public space.
Het boek is voor 15 euro te koop in de ticket office tijdens het openingsweekend, 17-19 september.
WIE?
Sara Leghissa is artiest, performer, onderzoeker en woont in Milaan. Ze heeft een diploma Hedendaagse Geschiedenis en stond mee aan de wieg van collectief Strasse dat site-specific performances en films produceerde in de publieke ruimte, om de relatie tussen beweging en stedelijke landschappen te onderzoeken. Samen met Annamaria Ajmone organiseert ze voor de Italiaanse scene het onafhankelijk performance-platform Nobody's Business en de multidisciplinaire art party NESSUNO. Als performer heeft met verschillende artiesten en compagnies samengewerkt, zoals Teatro Valdoca, -Dom, Giorgia Ohanesian Nardin, Muta Imago, Annamaria Ajmone, Jacopo Miliani, Daniela Bershan. Recent was in residentie bij Sareyett (Ramallah) en La Casa Encendida (Madrid). Haar werk was al te zien op Santarcangelo Festival (IT), Triennale Teatro dell'Arte (IT), Short Theatre (IT), VAC Foundation (IT), Far Festival (CH), Oerol Festival (NL), Festival Parallèle (FR), Saal Biennal (EE), Les Tombee De La Nuit (FR).
https://saraleghissa.com
Lees de tekst WEAR A MASK, BECOME INVISIBLE How to make an illegal action interact with a content that coincides with it? door Sara Leghissa
concept: Sara Leghissa
tekst en dramaturgie in samenwerking met Carlo Fusani, Tomas Gonzalez, Catalina Insignares
illustraties, grafische layout: Marzia Dalfini
promotie: Giulia Messia
productie door Triennale Teatro dell'Arte- Milano, Far Festival- Nyon
partners;: Short Theatre- Roma, Sareyett– Ramallah, Saal Biennal- Tallinn, Parallele Festival- Marseille, in het kader van More Than This - Creative Europe
You might also like: