Come Together
Jan Martens Sweat Baby Sweat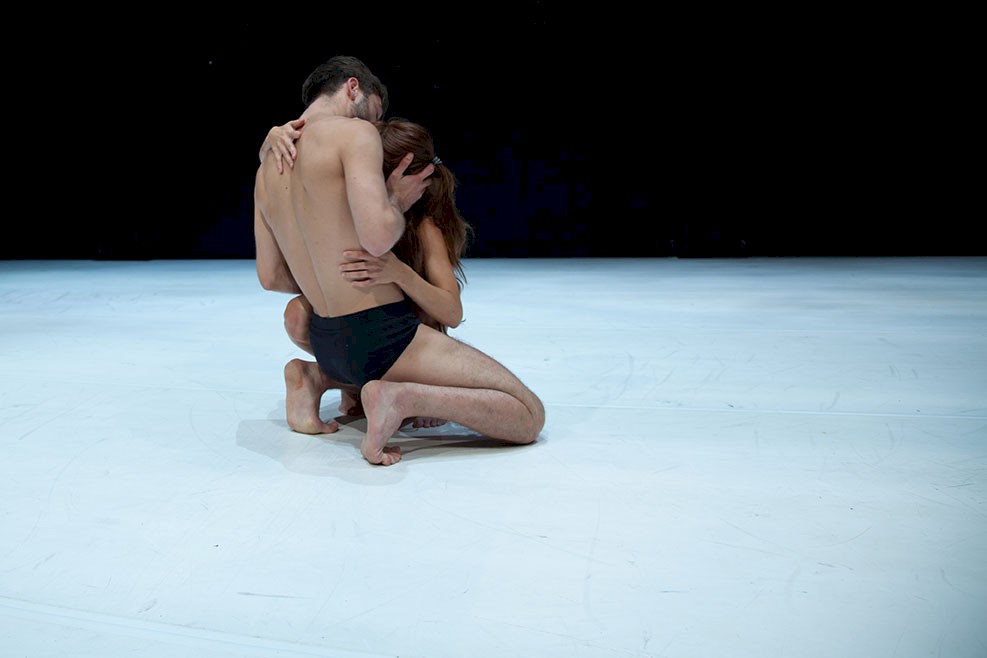 danse
FR 09.12.2016 20:30 Sold Out!
SA 10.12.2016 20:30 Sold Out!
                                                                                                                                                                                                                                                                                                                                                                                                                                            *Une représentation sur l'amour sobre mais intense, au-delà de tous les clichés.*     
Sweat Baby Sweat est quasiment l'inverse de ce qu'on attend d'un spectacle de danse : peu dynamique et sans montée en crescendo. Un spectacle qui s'éteint lentement, à l'instar de la relation qu'il met en scène. Deux personnes s'accrochent l'une à l'autre — comme des parasites — et rongent peu à peu leur énergie mutuelle.
Pour cette représentation, Jan Martens (BE) a trouvé son inspiration dans la concentration, la tension et la symbolique des acrobaties de cirque. Sweat Baby Sweat est une œuvre sensuelle et lente qui associe la puissance des acrobaties à la vulnérabilité psychologique. L'ambiance sonore et les projections textuelles accompagnent la chorégraphie de subtils commentaires.
2011, 60'
Choreography: Jan Martens
Performance: Kimmy Ligtvoet & Steven Michel
Music: Jaap van Keulen
Video: Paul Sixta
Technical direction: Michel Spang
Coach: Peter Seynaeve
Production: Frascati Productions, ICKamsterdam, TAKT Dommelhof, JAN vzw
Thanks to: SummerStudios Brussels, Marc Vanrunxt
---
Jan Martens (Belgium °1984) studied at the Fontys dance academy in Tilburg and graduated at the Artesis Conservatory for Dance in Antwerp in 2006. He performed in the work of amongst others: Koen De Preter, United-C, Mor Shani and Ann Van den Broek. In 2009 he started to develop his own choreographic work. In a short time his work received critical and popular acclaim which resulted in a growing number of shows performed mainly in the Netherlands and Belgium.

You might also like: