The Surplus Talk
expo conversations
The Surplus Talk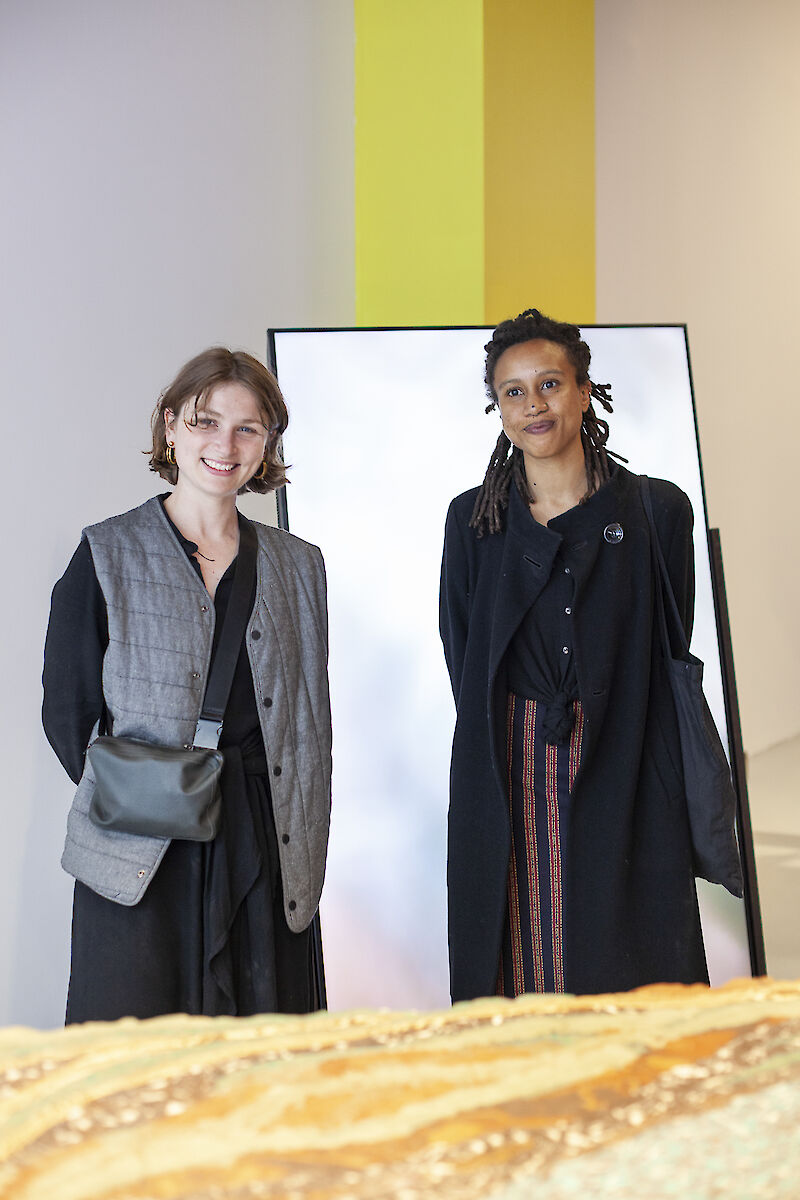 In the frame of the exhibition Chapter 4: Sold, Ève Chabanon, Peggy Pierrot and Rosanna Puyol delve into some of the issues underlying 'The Surplus of the Non-producer', marginalised labour, collective work and… commons.
Moderated by Sofia Dati, visual arts programmer at Beursschouwburg
In French
Reserve your spot and get a table for 4 (or just for you)
doors 18:30
starts 19:30
BIO
Ève Chabanon lives and works in Brussels. She graduated from the Haute École des Arts du Rhin (HEAR) in Strasbourg in 2013, before taking a Masters in Curating at the Sorbonne Université in Paris in 2014 and participating in the Open School East in London and Margate in 2016. She took part in several residencies, including at the White House in Dagenham in 2017, the FRAC Grand Large in Dunkirk in 2018 and Te Whare Hera in Wellington, New Zealand, where she presented her first solo exhibition "Eating Each Other" in 2019. She was awarded the Prix Sciences Po for contemporary art in 2018 for her project "The Anti-Social Social Club: Episode One, The Chamber of the Dispossessed". Chabanon's works have been shown in France as part of La Manutention, a performance programme at Palais de Tokyo (2018), at Parc Saint Léger (2016), and the CAC Chanot, Clamart (2019). Other chapters of "The surplus of the non-producer" were presented at Lafayette Anticipations (2018), Bétonsalon - Centre d'art et de recherche, Paris (2020) and Westfälischer Kunstverein, Münster (2020).
instagram.com/macaronic_cheese
Peggy Pierrot is an unclassifiable activist: she is a journalist, radio host, webmaster, editor,… She currently works at Ecole de Recherche Graphique, Brussels, (ERG) where she teaches Media and Communication Theory and is involved in the Stories and Experimentation - Speculative Narration master course. She gives conferences and workshops on Afro-Atlantic cultures and literatures, science fiction, media and technologies, and wishes to make audible the words of those who are "invisible". Through her work, she proposes a transversal gaze on African diasporas in Europe & America, questioning their origins, the myth of the homeland as well as possible futures.
Rosanna Puyol is a poet and editor who collaborates with artists for exhibitions, readings, film programs and performances. She co-founded the editing house Brook and has worked on the publication of translations of texts by Laura Mulvey, Shulamith Firestone, Fred Moten & Stefano Harney, José Esteban Muñoz, Cecilia Pavón and Saidiya Hartman, among others. She organizes reading groups as well as writing and translation workshops.
instagram.com/tarahasnoroomsinside
You might also like: