FUCKUP NIGHTS
conversations
FUCKUP NIGHTS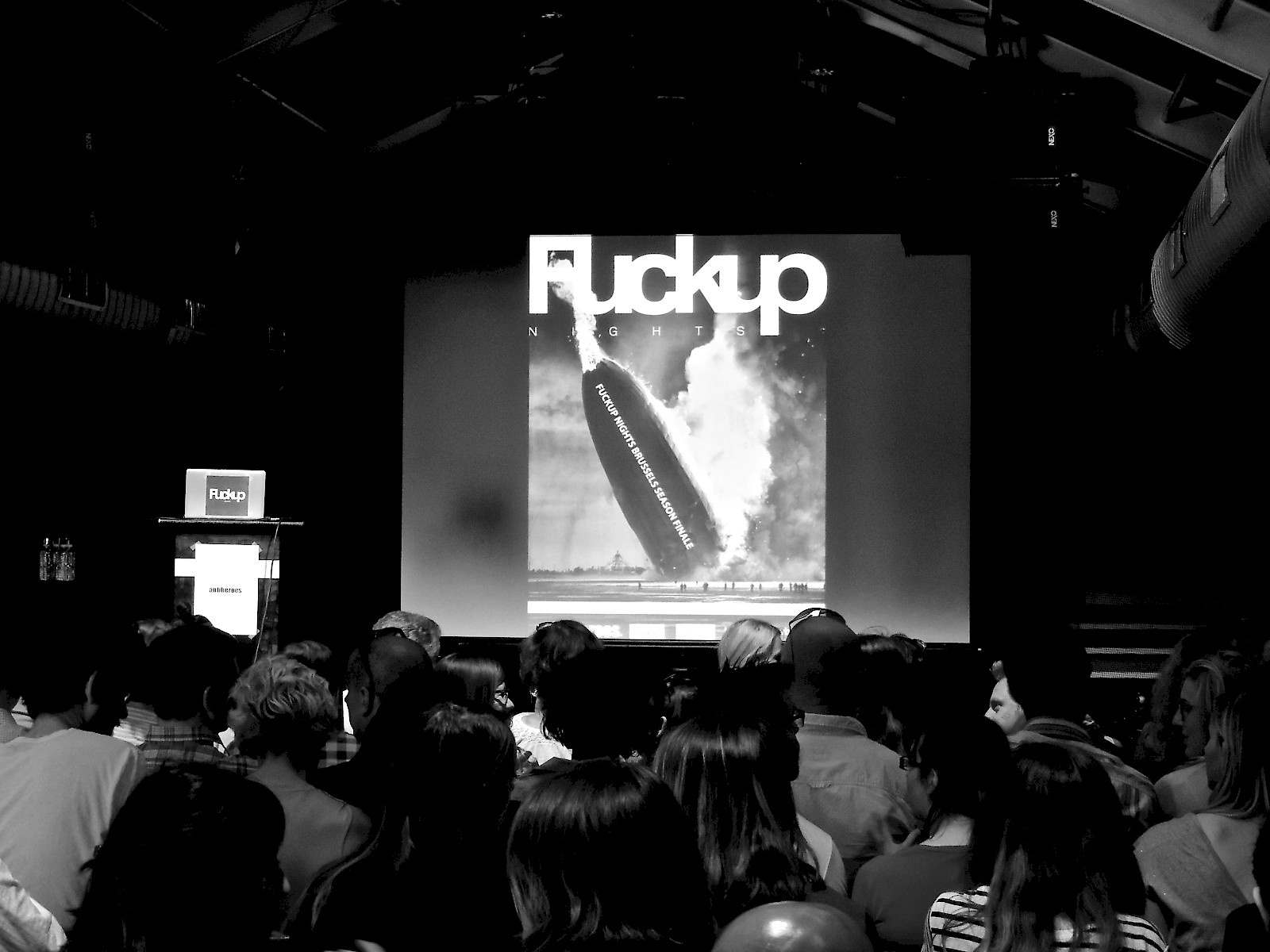 lecture
TH 22.02.2018 20:00
Stories of failed businesses and projects are told, questioned and celebrated.
After one year of procrastination, the FuckUp Nights Brussels team is thrilled to announce its 20th edition. The formula keeps being the same: 3 or 4 speakers share the story of their biggest professional failure in 6 minutes 40 and 10 images, the audience asks questions and speakers reply in their best candid and authentic way.
JOLIEN VANDENBROELE, entrepreneur, designer and sales manager at Studio Flash.
Jolien started Ms Flash four years ago, a flashy designer wallpaper and wall murals e-commerce company. Jolien is going to share all her precious discoveries on how not to run the supply chain and launch a (wallpaper) online business, and how things can go surprisingly wrong no matter how much public attention and interior design publications your work may produce. • Manuel Pueyo, web content strategist and freelance trainer. Manuel co-founded the 4041 Space, a spontaneous / collective-based / open policy space in one the most surrealist galleries of Brussels: Galerie Ravenstein. He will talk about the downfall of 4041 and what he learnt about the importance of governance, design and transparency in decentralized innovation ecosystems.
KARINE VAN OOSTERBOS, psychotherapist and coach.
Karine had an ambitious plan: buy a house big enough to host business workshops and to allow her to work from home. She found the perfect property, teamed up with an enthusiastic partner and started investing in renovations. But soon enough, the finances started smelling fishy. Karine will share how grey-zone business agreements can unsettle both your business and private life.
ANTONIN GUYON, member of the citizen association behind the campaign Touche pas à mon coq #tpamq.
The campaign started when AB InBev, which owns the Café Le Coq, one of the most beloved and open cafés of Place Fernand Coq (Ixelles), refused to renew the café's lease in order to develop a "more attractive" concept for the neighborhood. Despite the support of 8000 signatories to the petition and a solid client base, le Coq closed its doors on December 31st, 2017.
These speakers will candidly share in 7 minutes: - What their project was - What went wrong - How it affected their personal life - What they learned - What they would do differently At the end of each story you, the audience, ask questions. All accompanied by beer and good friends.
http://fuckupnights.com
http://www.antiheroes.org
You might also like: